Mazen Skaf is a Managing Director and Partner in L.E.K. Consulting's Houston office and a member of the Energy practice. He has more than 17 years of strategy consulting experience and has advised clients in a variety of sectors including energy, technology and private equity. His areas of expertise include strategy development and execution, business model innovation, corporate development, and strategic portfolio management.
Prior to joining L.E.K., Mazen served as a Partner and Managing Director at Strategic Decisions Group (SDG). Previously, he was the Chief Business Officer at TRACON Pharmaceuticals where he directed overall corporate strategy and business development activities. Prior to that, Mazen was a member of the startup team and a Senior Director of Product Marketing at Rapt Technologies, a leader in web media price optimization and analytic solutions, which was acquired by Microsoft.
Mazen holds a B.S. in engineering, summa cum laude, from The University of Texas and an M.S. and a Ph.D. in engineering-economic systems from Stanford University. Together with his client Donald W. Spillman from Shell Oil Co., he received the first INFORMS Decision Analysis Society Practice award for their work in portfolio management. He is a Fellow of the Stanford Center on Conflict Resolution and Negotiation and also a Fellow of the Society of Decision Professionals. Mazen is a Wall Street Journal expert panelist on topics related to energy. His research and work have been featured on CNBC and in the Wall Street Journal, Bloomberg Businessweek and several other publications.
Education
Undergraduate: Bachelor of Science in Engineering,The University of Texas
Graduate: Master of Science and Ph.D. in Engineering-Economic Systems, Stanford University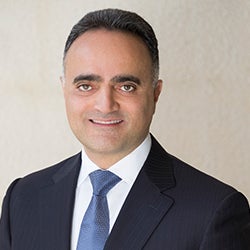 Related Insights