Alan joined L.E.K. Consulting in 2003 and is based in the Boston office. Alan is a leader in our Travel and Transport practice. He is an expert in growth strategy and has helped many companies within the travel sector and beyond to define and execute on ways to grow and create value.
He is co-author of the Harvard Business Review Press book "Edge Strategy: A New Mindset for Profitable Growth" and has been featured in publications such as Forbes, Bloomberg, HBR, The Economist, Financial Times, and Inc.com. He was recognized by Consulting Magazine as a Top 25 Consultant in 2016.
Prior to joining L.E.K., Alan worked in the chemicals industry holding a number of positions in R&D and business development with major multinationals ICI and Ineos. Alan is a professionally qualified chemical engineer (CEng MIChemE) with a first class honors degree from University College Dublin and an MBA from the University of Cambridge.
Education
Undergraduate: Bachelor of Engineering in Chemical Engineering, University College Dublin
Graduate: Master of Business Administration, Cambridge University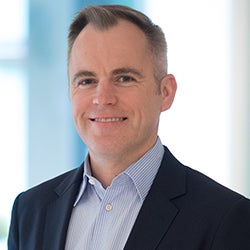 Related Insights
Edge Strategy: Tapping Potential at the Edge of Your Core Business
Edge Strategy
Edge Strategy: Tapping Potential at the Edge of Your Core Business