Darren Perry is a Managing Director and Partner in L.E.K. Consulting's Boston office. He has more than 13 years of strategy consulting experience and works with clients to identify & assess growth opportunities, construct business plans, and evaluate merger and acquisition opportunities. Darren advises clients across a variety of sectors, including aviation, industrials, and technology & business services. His areas of expertise include strategic option development and evaluation, digital strategy, new product development, pricing, loyalty, distribution and channel effectiveness, and commercial due diligence.
A software industry veteran and a mechanical engineer by training, Darren co-leads L.E.K.'s Industrial Digital practice globally. He has experience across the full breadth of Industrial Digital issues, including: digital products & business models, digital customer experience, IIoT / Industry 4.0, and digital ways of working.
Prior to joining L.E.K. in 2005, Darren worked as an internal consultant for North Atlantic Capital, where he advised portfolio companies on growth strategy, and as a consultant for MicroStrategy, where he helped clients optimize their use of enterprise analytics. He earned his MBA from the Tuck School of Business at Dartmouth College, a BS in engineering sciences from Dartmouth College and a BA with honors in physics from Colby College.
Education<
Undergraduate: Bachelor of Science in Engineering Sciences, Dartmouth College and Bachelor of Arts in Physics, Colby College
Graduate: Master of Business Administration, Tuck School of Business at Dartmouth College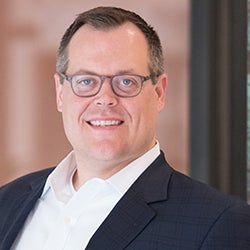 Related Insights
Webinar Recording: Navigating the Industrials New Normal
Industrials
Webinar Recording: Navigating the Industrials New Normal