Consumer Segmentation
A robust ability to understand who your customers really are and what they need to help you make critical strategic decisions about your business
Consumer brands today have an unprecedented ability to tailor their customers' experience. With digital tools to control what you say to whom and at what time, agile models to customize services, and CRM systems driving unique engagement, companies need to know where and how to deploy their array of tools. At the same time, consumer expectations are greater than ever — customers are seeking personalized experiences that are just for them.
A foundational building block for companies to optimize their customer experience is a robust segmentation that precisely characterizes who your customers are, what their specific needs are and how your brand can help.
Approach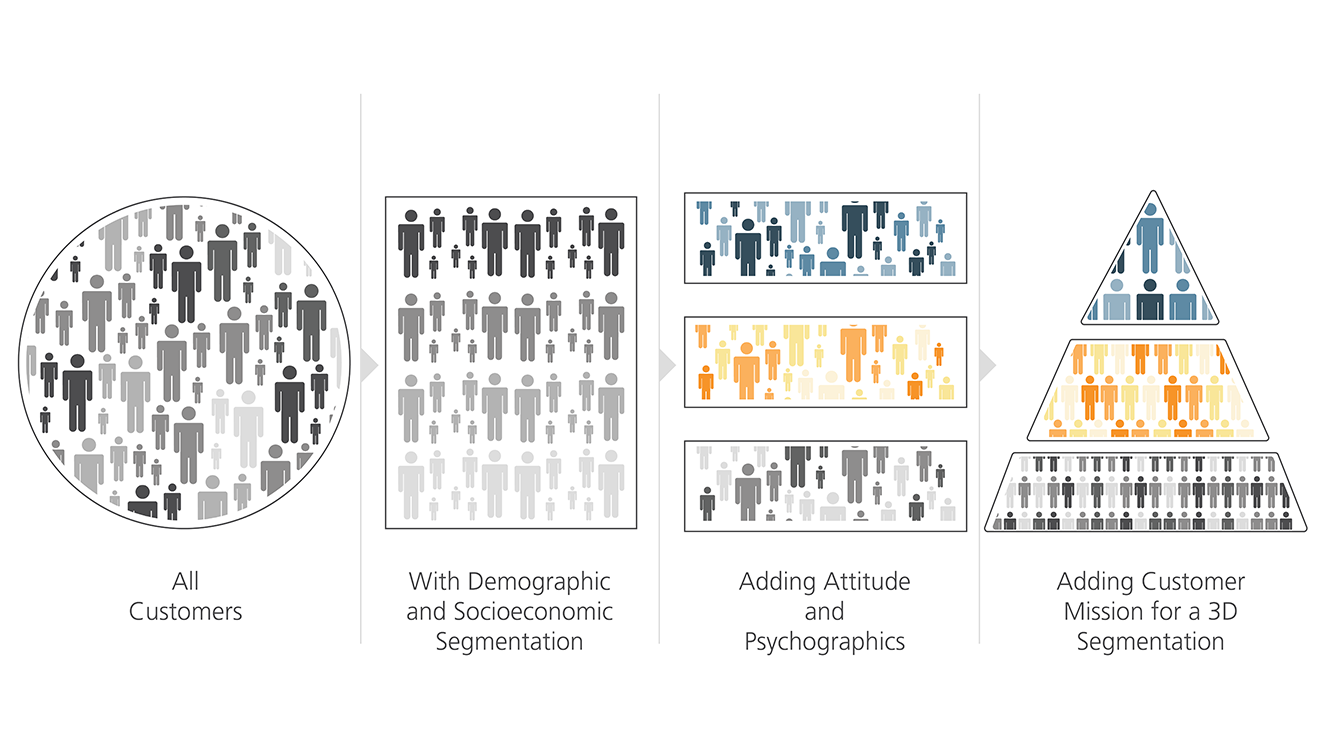 At L.E.K. Consulting, we have a proven approach to build a three-dimensional (3D) customer segmentation that takes into account (1) demographics and socioeconomic factors, (2) attitude and psychographics, and (3) customer mission.
Demographics and socioeconomics: This is the traditional basis for segmentation models; however, while customers may share attributes such as gender, age and income, in practice they make decisions in different ways and purchase different products.
 
Attitude and psychographics: Consumers' attitude and psychographics ― how they define themselves, what they believe in and how they approach decisions ― are key factors in how products and brands resonate. Furthermore, customers' prior behaviors can supply proof points of how demographics and psychographics have driven past decisions.
 
Customer mission: This is the dimension most segmentations leave out. A mission is a customer's specific context and need at the time of purchase ― two aspects that evolve from purchase to purchase. This is especially true for categories where customers make repeat purchases under different circumstances, e.g., in hospitality, food and beverage, and personal care. By understanding customers' missions, you can target the same individuals more precisely, using unique messages and products across all of their buying occasions.
We work with our clients to identify exactly which dimensions and subdimensions are key to consider, and we develop models built on sophisticated, data-driven consumer research. Together with L.E.K.'s Market Insights Center of Excellence, we have significant experience using cluster analysis, latent class segmentation, factor analysis, deterministic segmentations and other tools to generate meaningful and actionable segmentation models.
Armed with a deep level of consumer understanding, we help our clients develop and implement winning, differentiated strategies.
Successes
Premium personal care brand
Our client had successfully built market-leading share in a number of niche product segments, but was looking for a step change in growth trajectory. We used 3D segmentation to identify the underlying needs driving personal care purchases and to define the growth avenues for which consumers gave our client permission. As a result, the brand no longer had to be bound by specific product segments, but rather began to target consumers based on their intended missions (e.g., a daily escape versus simple protection). With this broader mindset, our company found significantly higher growth opportunity and this helped drive investor interest.
Global multibrand hospitality portfolio
Equipped with a complex portfolio of more than a dozen brands at varying stages of transformation, our client needed to truly focus on the value proposition, customer experience and messaging for each of its flags. We built a comprehensive guest segmentation and created detailed personas highlighting the specific needs, preferences and behaviors present at each hotel brand. Our client now has the insights to align functional activities and inform strategic decision-making for everything from brand marketing to guest experience, channel execution and strategic investment planning.
Leading athletic footwear and apparel brand
An iconic, global footwear and apparel brand had experienced historic success that cut across a broad range of demographic segments, but needed to figure out how to maintain growth as products reached maturity. Internally, our client's leadership had different views about who their core customer was and where to invest next. We segmented the client's consumer base to identify which consumers drove the most value, what made those segments tick and where our client had a right to grow. The project resulted in a crystallized brand strategy that drove continued share gain and material revenue growth.