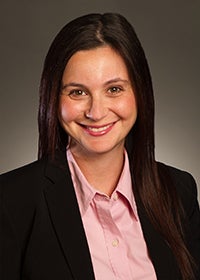 Chicago, IL — March 28, 2014 — L.E.K. Consulting's Maria Steingoltz, a senior engagement manager based in the Chicago office, has been named to Consulting magazine's "Rising Stars of the Profession - 35 Under 35" for 2014.
"We congratulate Maria on this outstanding recognition from Consulting magazine," said Peter McKelvey, president of L.E.K. Americas. "Maria is an innovative, emerging leader in our retail and consumer products practices who works with a variety of clients and demonstrates internal leadership skills with L.E.K. staff."
Steingoltz joined L.E.K. in 2003 as an associate, and then returned in 2007 after earning her MBA from the Kellogg School of Management at Northwestern University. She is an integral part of the Retail and Consumer Products practices and has co-authored the L.E.K.'s Executive Insights, "Fresh Food Nation: The Economic Promise of the 'Farm-to-Fork' Strategy."
"I'm incredibly honored to be named a 'Rising Star of the Profession' not only for myself, but for the entire firm," said Steingoltz.
As a leading global advisor to the retail and consumer products industries, L.E.K. works with senior executives looking to enhance profit performance through the development and execution of long-term growth strategies, services enhancement, merchandise management, new product development and execution, and operational effectiveness.
About L.E.K. Consulting
L.E.K. Consulting is a global management consulting firm that uses deep industry expertise and analytical rigor to help clients solve their most critical business problems. Founded 30 years ago, L.E.K. employs more than 1,000 professionals in 22 offices across Europe, the Americas and Asia-Pacific. L.E.K. advises and supports global companies that are leaders in their industries – including the largest private and public sector organizations, private equity firms and emerging entrepreneurial businesses. L.E.K. helps business leaders consistently make better decisions, deliver improved business performance and create greater shareholder returns. For more information, go to www.lek.com.