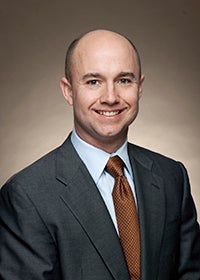 Boston, MA — May 11, 2015 — David Barrow, managing director and head of L.E.K. Consulting's Biopharma, Life Sciences and MedTech practice for the Americas, has been named one of Consulting magazine's Top 25 Consultants of 2015 for Excellence in Healthcare. This award recognizes the "most influential consultants of the year" for their leadership skills and client impact.
"It has been extremely rewarding to serve as an advisor to leading pharma, biotech, medical device and healthcare technology companies," said Barrow. "One of our top priorities has been to help clients transform healthcare with breakthrough innovation and solutions that deliver patients, providers and payers value through advances in areas such as genetically targeted therapies, regenerative medicine, robotics and other disruptive technologies."
During his 16-year career in consulting, Barrow has worked on hundreds of assignments across the healthcare continuum, including large pharma, venture-backed biotech, global medical device companies, providers, pharma services groups, healthcare-enabling technology companies and industry organizations. He has helped several dozen biopharma innovators develop therapies for Rare Diseases and has worked with leading global pharma companies to define approaches to more integrated care in large chronic diseases. Additionally, he is a key driver of L.E.K.'s thought leadership initiatives and is the co-author of "Too Big to Succeed: Where are large pharmas heading?" in In Vivo.
"David has been instrumental in helping clients successfully navigate through complex and high-stakes choices that involve large investments by healthcare companies and the significant risk of failing in the trial stage because of the experimental nature of the science," said Peter McKelvey, president of L.E.K.'s Americas region. "He is continually finding ways to channel the talent of his client teams and enabling client leaders in many areas to make critical decisions in an ever-changing environment. We congratulate David on this achievement."
Barrow will be honored at a gala awards dinner on June 18, 2015 in New York City and is being featured in an editorial piece in the May 2015 issue of Consulting magazine.
 
About L.E.K. Consulting
L.E.K. Consulting is a global management consulting firm that uses deep industry expertise and analytical rigor to help clients solve their most critical business problems. Founded more than 30 years ago, L.E.K. employs more than 1,000 professionals in 21 offices across the Americas, Asia-Pacific and Europe. L.E.K. advises and supports global companies that are leaders in their industries – including the largest private and public sector organizations, private equity firms and emerging entrepreneurial businesses. L.E.K. helps business leaders consistently make better decisions, deliver improved business performance and create greater shareholder returns. For more information, go to www.lek.com.
Contact:
Emmy Llewellyn
617-951-9582
e.llewellyn@lek.com