London — June 12, 2015 — L.E.K. Consulting, a global strategy consulting firm, has been named Strategic Consultants of the Year at the prestigious HealthInvestor awards ceremony at the Grosvenor House Hotel in London. The awards recognize the achievements and exceptional performance of those who invest in, advise, lend to and operate in the independent healthcare community.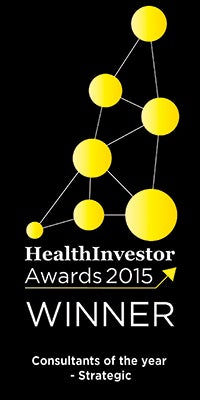 L.E.K.'s entry demonstrated its pivotal role in some of the industry's most significant strategic initiatives over the past year, supporting innovators in the private sector, the NHS and the non-profit sector to develop and activate winning strategies for complex commercial challenges.
Entries were evaluated by a panel of high profile, independent judges from across the healthcare sector. Their citation remarked on L.E.K.'s: "Breadth of advisory roles, across both private sector and the NHS", its "impressive portfolio, with high level delivery" and its "cutting edge work."
"This award recognizes the commitment and dedication of our European healthcare team," said Jonathan Sparey, head of L.E.K.'s European Healthcare practice. "We are privileged to work with the healthcare sector's most forward-thinking providers to develop game-changing insights that deliver real impact for their organisations."
This is the latest in a series of awards for L.E.K.'s European healthcare team, which was named Management Consultant of the Year at the 2013 and 2012 Laing & Buisson Independent Healthcare Awards, HealthInvestor Consultants of the Year in 2011 and runner up in 2012, and Acquisitions Monthly Healthcare Sector Advisor of the Year in 2011.
L.E.K. is a leading adviser to the European healthcare sector, addressing some of the industry's most complex commercial challenges and supporting its most significant transactions. The firm works across the full breadth of the healthcare market, including: healthcare services, life sciences, biotechnology, medtech and pharmaceuticals. It has completed close to 4,000 healthcare projects globally, working principally for private sector service providers and investors, and also supporting government agencies, other public sector bodies and non-profit organizations.
About L.E.K. Consulting
L.E.K. Consulting is a global management consulting firm that uses deep industry expertise and rigorous analysis to help business leaders achieve practical results with real impact. We are uncompromising in our approach to helping clients consistently make better decisions, deliver improved business performance and create greater shareholder returns. The firm advises and supports global companies that are leaders in their industries — including the largest private and public sector organizations, private equity firms and emerging entrepreneurial businesses. Founded more than 30 years ago, L.E.K. employs more than 1,000 professionals across the Americas, Asia-Pacific and Europe. For more information, go to www.lek.com.
Contact:
James Lloyd
+44 20 7389 7456
j.lloyd@lek.com