Shanghai — December 6, 2016 — L.E.K. Consulting, a global management consulting firm, has published a 162-page guidebook for Chinese companies interested in global private equity investing.
China Funding the World: An International Private Equity Investment Guide for Chinese Companies was commissioned by Shanghai Municipal Commission of Commerce. It represents the culmination of work by L.E.K. Consulting, with legal advice from Chinese counsel DeHeng Law Offices. The guidebook is designed to give Chinese business leaders information on issues and opportunities regarding outbound private investment and partnerships.
China Funding the World consolidates the latest thinking and first-hand experience from investment  leaders, practitioners and L.E.K. global experts. It provides the latest trends and insights on Chinese outbound private equity investment activities and partnerships in effective strategic tools, and lessons learned from case studies. It includes an overview of the investment environment, opportunities and challenges in nine major countries, as well as a list of useful tools and "how-to" approaches for planning, execution and post-investment integration. The book also highlights risks in going overseas, and provides practical advice so that business leaders can be more confident when making investment decisions and ultimately succeed on the path toward internationalization.
As China's economy grows, Chinese companies are increasingly enthusiastic about investing in overseas markets. The average annual growth of outbound direct investment had been 35.9% since 2002 and had reached US$145.6B in 2015, achieving net capital export for the first time in history. In order to support the "going overseas" strategy of Shanghai enterprises and to promote the sustainable development of outbound investment and international cooperation, Shanghai Municipal Commission of Commerce engaged L.E.K. to support Chinese enterprises in this endeavour.
"The biggest Chinese firms are already well served by bankers and other advisors. This guidebook helps the 90% of the Chinese enterprises with resources to consider overseas private equity and investment," said Justin Wang, lead editor of China Funding the World and managing director at L.E.K. Consulting. "It includes not only an introductory overview of various overseas markets but also discusses many strategic issues and provides practical suggestions to avoid the worst pitfalls. We expect this book to be an indispensable resource for companies, funds and advisors in achieving their strategic international investment goals."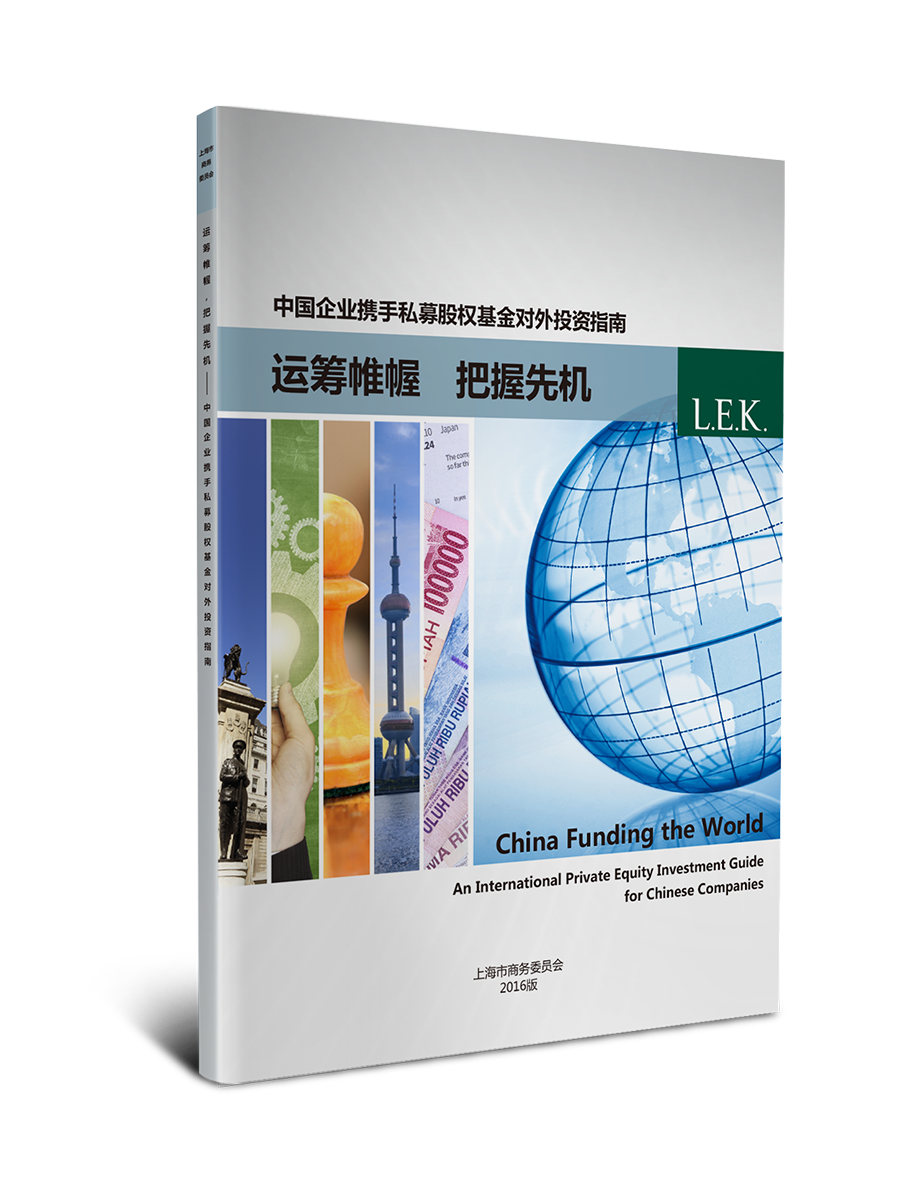 L.E.K. Consulting Publishes Guidebook for Chinese Companies on Private Equity Investing
About L.E.K. Consulting
L.E.K. Consulting is a global management consulting firm that uses deep industry expertise and rigorous analysis to help business leaders achieve practical results with real impact. We are uncompromising in our approach to helping clients consistently make better decisions, deliver improved business performance and create greater shareholder returns. The firm advises and supports global companies that are leaders in their industries — including the largest private and public sector organizations, private equity firms and emerging entrepreneurial businesses. Founded more than 30 years ago, L.E.K. employs more than 1,200 professionals across the Americas, Asia-Pacific and Europe. For more information, go to www.lek.com.
About DeHeng Law Offices
DeHeng Law Offices is one of the largest full-service law firms in China with 32 branches and 1,800 professionals globally. The firm has established reputation in many practices areas with a broad client base.
With a large number of highly experienced and international professionals, DeHeng's cross-border team provided quality and efficient legal services to a large number of enterprises from both China and abroad in the areas including foreign investment, outbound investment, private equity, offshore listing, international engineering and construction, international antitrust, international dispute resolution, etc.
About Shanghai Municipal Commission of Commerce
Shanghai Municipal Commission of Commerce is a department under Shanghai Municipal Government, responsible "going overseas" support for Shanghai enterprises. In 2014, via the approach of public procurement of professional service, Shanghai Municipal Commission of Commerce aims to enhance the public-service system construction for "going overseas" support, leverage the strengths of professional service agencies, provide professional and effective support to 'going overseas' enterprises, promote the long-term development of the city's outbound investment and cooperation, bring the 'going overseas' support to a higher level and broader territory.
The full guidebook is available in Chinese only and can be downloaded by clicking [HERE].  If you are interested in more details, please contact Elvis Zhang at +86 21 6122 3900 or e.zhang@lek.com.
Scan QR code below to follow L.E.K. China on WeChat for more insights and news.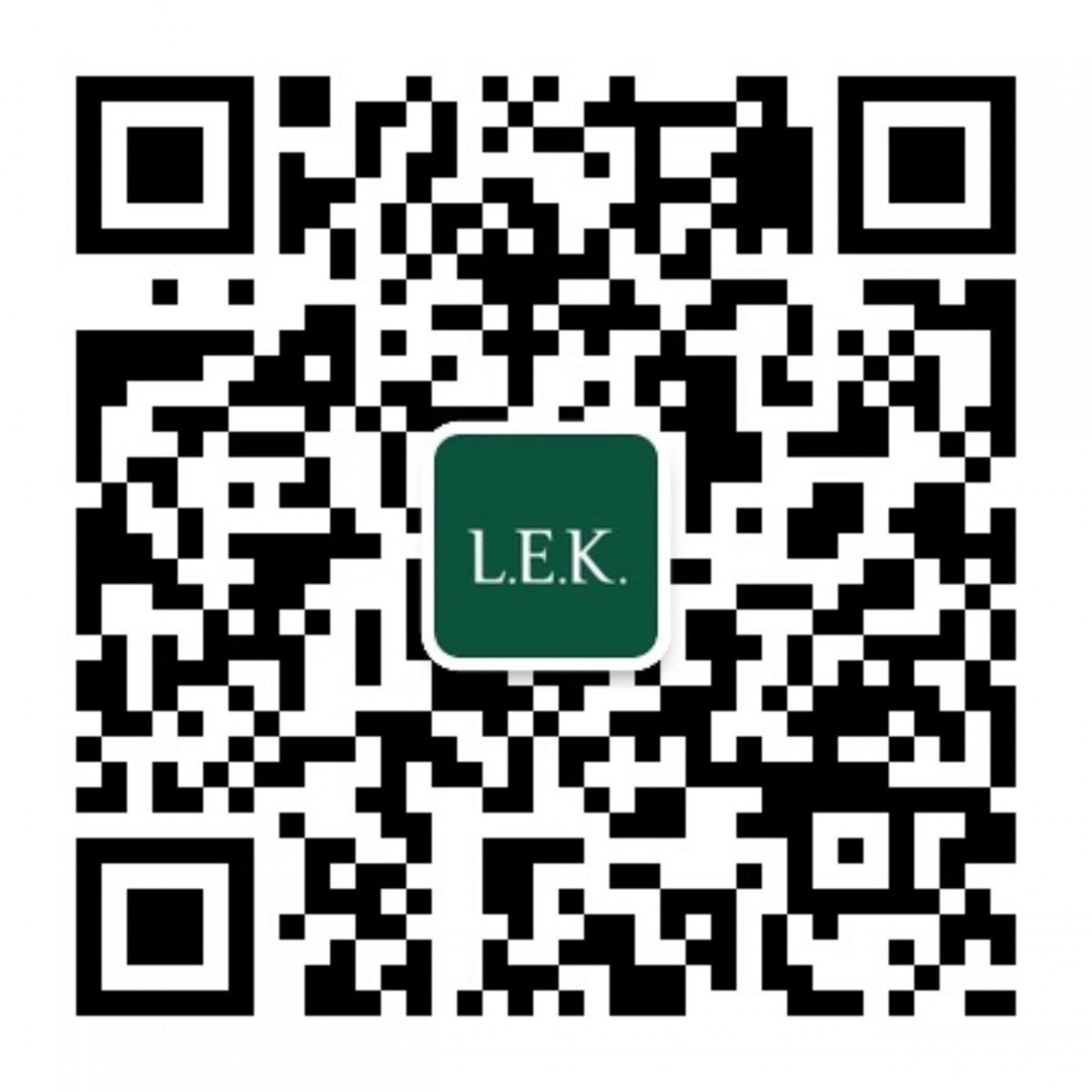 L.E.K. Consulting WeChat Official Account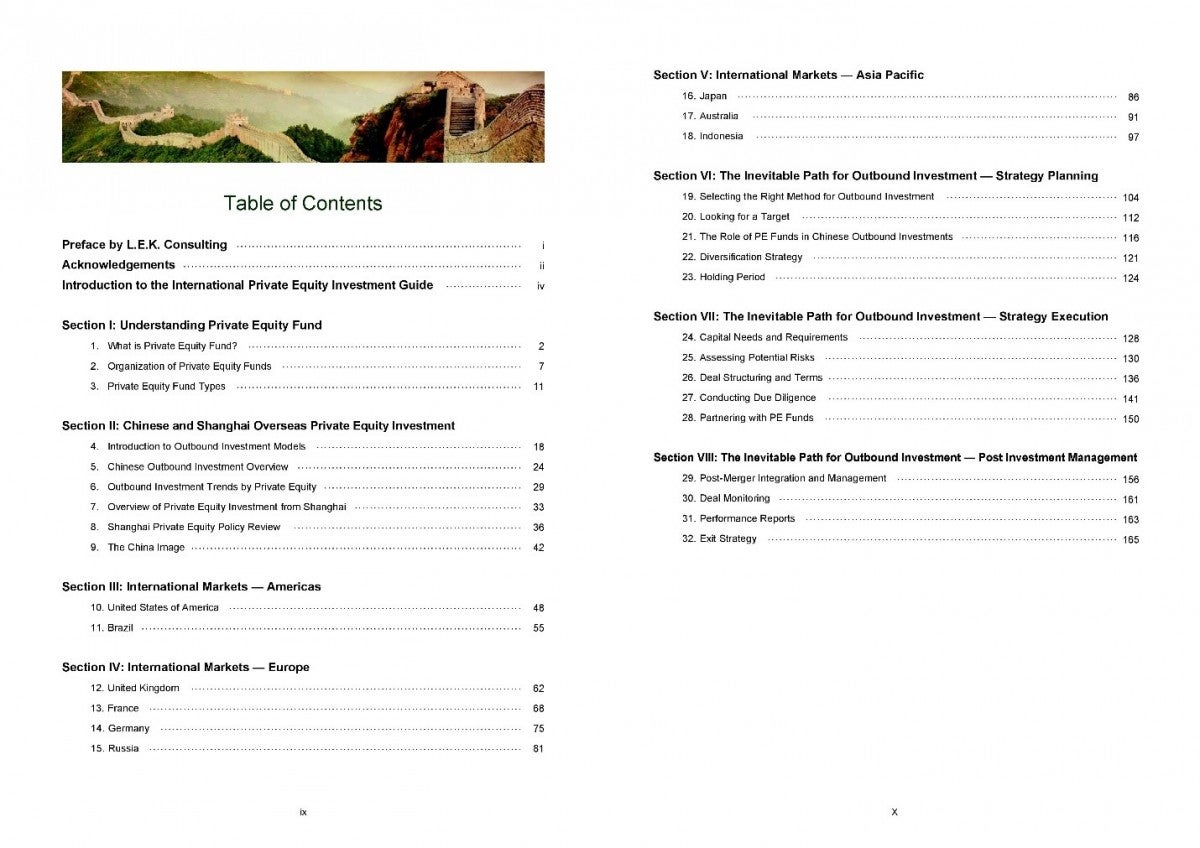 China Funding the World: An International Private Equity Investment Guide for Chinese Companies
Table of Contents