Background and challenge
A leading waste management company sought to offset the natural advantages held by competing small and midsize enterprises (SMEs) within their business segment. Accordingly, the client called upon L.E.K. Consulting to revamp its sales lead generation and capture capabilities and, in turn, boost profitability within targeted regions. We subsequently devised a more disciplined approach to field sales, with particular emphasis on improving the firm's database of high-quality SME leads. This ultimately allowed the company to successfully vie for these smaller accounts, with the potential to significantly improve its bottom line over the long term.
Approach and recommendations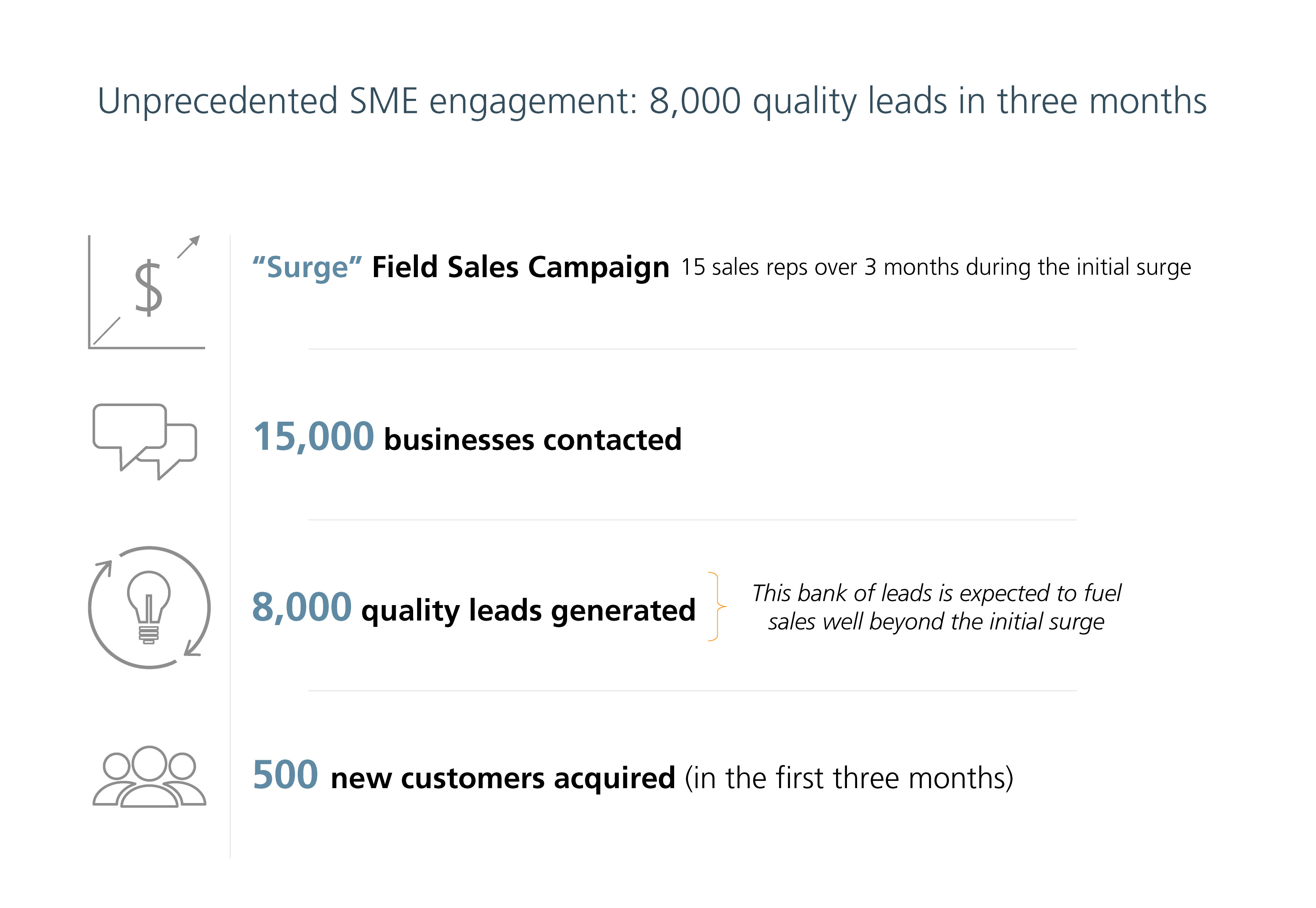 As part of the initial review, we determined that the company's decline in SME revenues stemmed from a number of factors, including lack of a dedicated regional sales focus, along with insufficient/outdated mechanisms for monitoring sales force activity and cultivating actionable leads. Thus, we embarked on a three-pronged approach to increasing the client's SME capabilities. This focused in particular on lead capture/data storage using marketing automation to nurture leads via utilized emails, calls and texts, as well as adopting more structured, strategic methods that would allow the client to cost-effectively convert established leads into sales. The project was undertaken deploying "agile" methods, with the campaign and tool design undertaken in eight weeks, enabling rapid execution in the field.
Key to this effort was the implementation of MapAnything, a mobile-based geospatial prospecting tool that allows salespeople to gauge potential opportunities within any given area based on existing competition/saturation; reps can then interface with customer relationship management (CRM) solutions such as Salesforce to store pertinent data. Additionally, a new KPI monitoring and reporting system was installed, including dashboards and templates for analyzing and managing ongoing leads, sales activity and outcomes.
Results
The project gave the company a more effective method of compiling high-grade SME leads by allowing agents to locate prospective zones that could fuel new sales opportunities. Deployed as part of the client's "surge" field sales effort, the new set of initiatives led to an unprecedented rise in the firm's SME engagement, resulting in some 8,000 quality leads cultivated over the first three months alone, including 500 account acquisitions (with more expected to follow). Buoyed by this success, the client ultimately utilized the same approach on a nationwide basis with impressive results: The company's share price has appreciated by 150% over four years since this project was completed.
Related Insights