Shared transportation most severely impacted
People's concern for the environment and interest in electric vehicles significantly increased by the pandemic, but EV costs are still too high for mass market adoption
Report from L.E.K. Consulting, Vision Mobility and CuriosityCX
LONDON ― March 1, 2021 ―  The Fifth Annual Global Mobility Study by L.E.K. Consulting, Vision Mobility and CuriosityCX shows the severe hit taken by the global consumer transportation market because of COVID-19.
Multiple forms of shared consumer transport have seen a dramatic decline in use throughout the pandemic.
Personalised transportation and in particular personal car usage has been least affected by COVID-19 ― but still dropped across the countries surveyed. And in developed economies, people are also less interested in car ownership on a net basis, with the perceived benefits of private usership being offset with lower utility of a vehicle particularly in multi-car households because of the rise of home-working.
The pandemic has led to record levels of concern about air quality and the need for environmentally friendly transportation, and this is reflected in heightened interest in electric vehicles (EVs), particularly amongst the under 35s. However, the perceived expense of buying an EV, compared with an internal combustion engine vehicle, remains the biggest barrier to purchasing one.
The research was conducted in October 2020 in France, Germany, the UK, the USA, Canada, China and Australia1.
Ashish Khanna and Becrom Basu, Partners at L.E.K. Consulting, said: "COVID-19 has had a transformational impact on the global consumer transportation industry. Most forms of transport have suffered from a staggering decline in usage and the near to mid-term outlook for shared transport in particular remains uncertain, in spite of the roll out of vaccines.
"2020 has been a watershed year for mass market interest in EVs. COVID-19 has enabled people across the world to experience the benefits of cleaner air and quieter roads, and it has generated a far greater sense of personal environmental responsibility. Our research also demonstrates a high positive correlation between this heightened responsibility and interest in EVs.
"However, our research also shows that the upfront cost of buying an EV is still too high for mass adoption, and people remain concerned about battery range and the lack of charging infrastructure.
"The challenge for industry and governments is to build on this injection of consumer interest, encourage people to transition away from internal combustion engine vehicles towards EVs, and work to lower the cost of EV ownership and rapidly scale the fast-charging infrastructure to comprehensive national levels."
Key findings:
The use of most forms of transport has seen a dramatic decrease since the onset of the pandemic (see Figure 1): airline use has declined by 84%, local public transit by 55%, ride hailing by 63%, rental cars by 82%, and electric scooter share by 59%. People's use of their own vehicle has dropped marginally in comparison, but the decline is still steep (9%).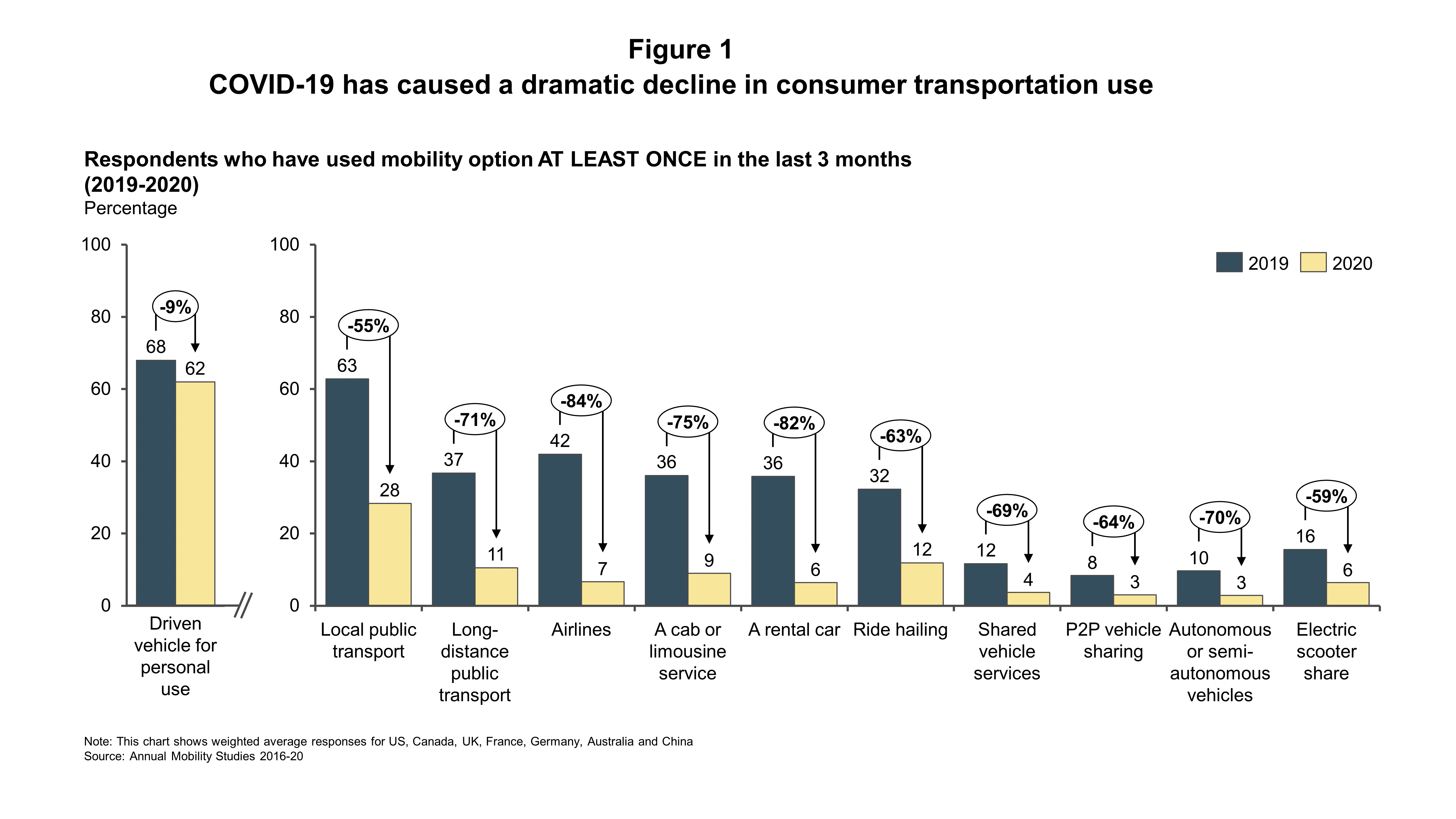 In all countries except China, more people are thinking about selling a car rather than buying a new one. The shift to home working and less commuting are key influences. More people than in any previous year of the survey say they would not own a car if they did not have to, in particular those aged 25-34 (58%) (see Figure 2).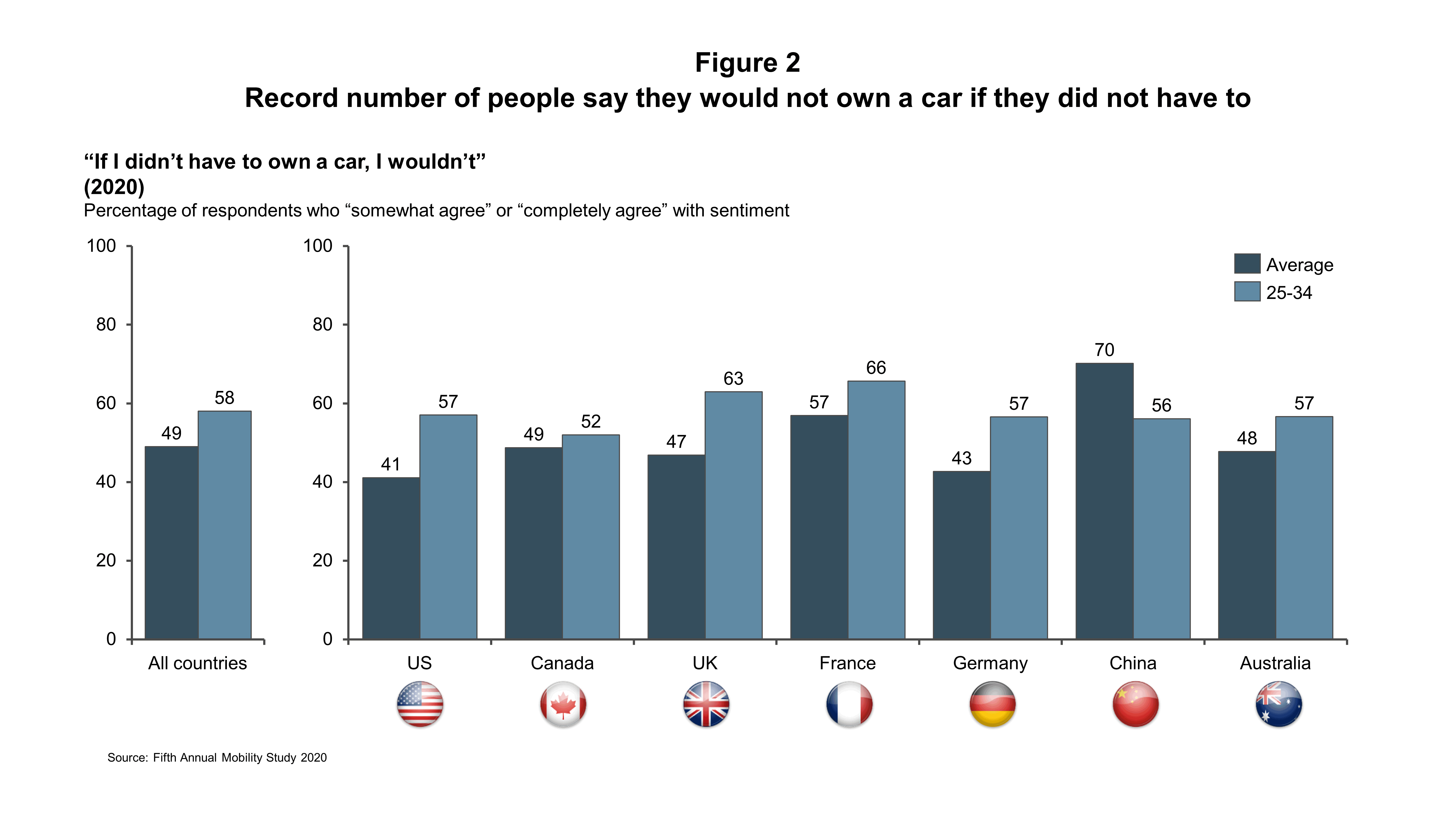 Over a third of people (37%) are more interested in environmentally friendly transport as a result of the pandemic. The greatest levels of interest are in China (60%), France (45%) and the UK (37%).
 
Four in 10 people say they expect their next car to be fully electric, whether owned or leased (see Figure 3). The top three countries are China (70%), the UK (56%) and Australia (41%). Even in the US, the bottom ranking country, a fifth of people (21%) expect their next car will be fully electric.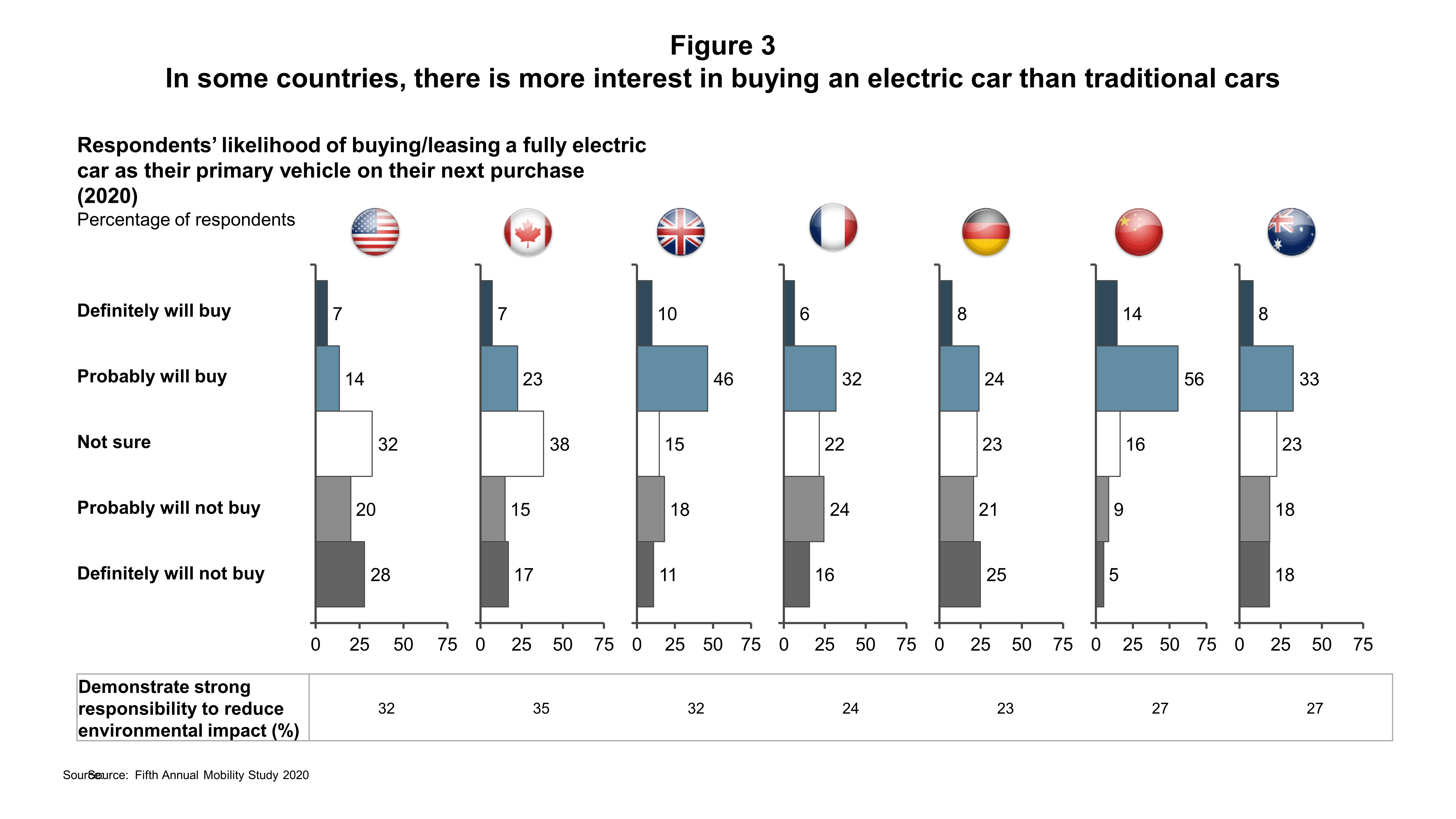 "Too expensive to buy" remains the key reason not to buy an electric vehicle for the majority of people, followed by concerns about battery range and the lack of charging infrastructure.
Khanna and Basu add: "This consumer surge in interest in the environment and EVs is consistent with the rapid evolution of investor appetite in the energy transition during 2020. There is significant interest in investments geared towards facilitating new infrastructure, vehicles and enablers. We expect the coming few years to see sustained high levels of activity on this front, with previous disruptive areas – sharing and autonomy – likely to take a back seat for a while."
Research methodology
Consumer surveys were conducted with respondents weighted by age and gender according to each country's census. There were c.3,500 respondents.
About L.E.K. Consulting
L.E.K. Consulting is a global management consulting firm that uses deep industry expertise and rigorous analysis to help business leaders achieve practical results with real impact. We are uncompromising in our approach to helping clients consistently make better decisions, deliver improved business performance and create greater shareholder returns. The firm advises and supports global companies that are leaders in their industries — including the largest private and public-sector organizations, private equity firms, and emerging entrepreneurial businesses. Founded in 1983, L.E.K. employs more than 1,600 professionals across the Americas, Asia-Pacific and Europe. For more information, go to www.lek.com.
About Vision Mobility
Vision Mobility is a consultancy that specializes in new mobility consulting to the automotive industry and other industries touched by new mobility, including OEMs, Tier 1s, automotive associations, mobility providers, startups and others. Vision Mobility also provides industry thought leadership at conferences, in industry publications and study results, and on social media. For more information, go to: www.visionmobility.ca/
About CuriosityCX
CuriosityCX is an experiential, communication and insights consultancy. For over 20 years, our team has been deeply involved in observing and understanding human emotions, attitudes and behaviours to help businesses create a better customer experience through better design and customer experience. Using qualitative and quantitative approaches, we move fast in asking the right questions to deliver the answers that matter. For more information, go to: https://curiositycx.com/
Endnote
1Respondents from China are representative of the addressable population for new mobility rather than the national population as a whole. They tend to be urban dwellers in higher income bands who have access to the internet.