People haven't always thought very hard about their food. For most of human history, simply getting enough to eat was job one. This began to change with the advent of health food, as it was called, around the turn of the 20th century. The rise of organic farming soon followed. Still, it wasn't until the early 1970s — when food prices spiked amid heightened concerns about environmental health — that natural foods started to gain traction as a cultural and commercial phenomenon.
Today, the movement has gone mainstream. From warehouse clubs to supermarkets, from dollar stores to drugstores, foods that profess to boost health and wellness have staked their claim on the retail shelf. Along the way, such foods have become upscale, representing a lifestyle that's less about counterculture than about conscious consumption.
All this and more is reflected in the newest installment of L.E.K. Consulting's biennial consumer food and beverage study. This year's nearly 1,600 survey participants tell us that:
Consumers' bar is rising. They want to know more than whether a product is low-calorie or high-fiber. Claims need to be more nuanced and convey specific attributes relative to health, wellness, ethics and the environment.
Consumers want more. Rather than gravitate to a handful of popular trends, consumers are seeking an increasingly diverse array of benefits from their food and beverage consumption.
Consumers see the value. More than ever before, consumers are willing to pay for food that delivers on its claims.
To understand these findings better, let's take a closer look at what survey respondents tell us about their attitudes and preferences regarding healthy, sustainable food and beverage products.
Being well, doing well
Health and wellness is no fad. It's an enduring desire that turns up time and again in our studies, one that people bring every day to the purchases they make. Of this year's nearly 1,600 survey participants, fully 93% say they feel compelled to eat healthy at least some of the time. Sixty-three percent say they try to eat healthy most, if not all, of the time. What's more, nearly three out of four tell us they're committed to at least one health, wellness, ethical or environmental attribute among the foods they eat.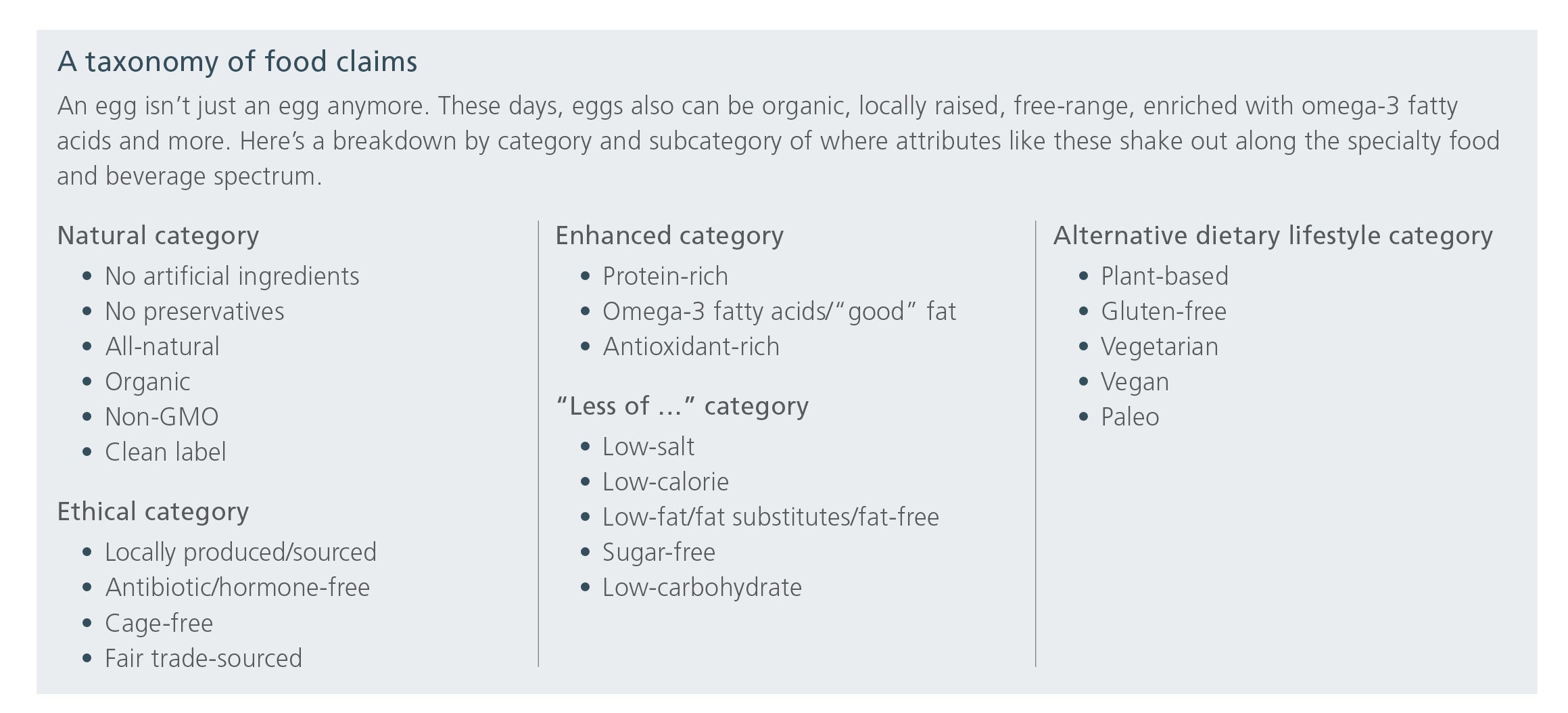 When it comes to the committed — which, in this context, describes those who purchase something frequently or all the time — age isn't a determinant. For instance, our survey shows that 25% of adults in each generation are committed to consuming foods with fewer unhealthy ingredients. But as is so often the case with today's trends, millennials are leading the way. They're the most committed to natural, ethical and enhanced food products, along with products that support an alternative dietary lifestyle (see Figure 1).