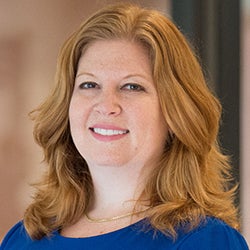 San Francisco– October 26, 2016 – Leah Ralph, a principal in L.E.K. Consulting's Biopharma and Life Sciences practice who helps biotech companies with growth strategies, has been named a Future Leader by Consulting Magazine's Women Leaders in Consulting awards. Ralph is based in L.E.K.'s San Francisco office.
"Leah Ralph has developed into an exceptional emerging leader in L.E.K.'s Life Sciences and MedTech practice. She brings a wide breadth of experience across healthcare as well as technical know-how and strong business acumen to help us address our clients' most challenging business issues. For example, she has made a significant impact helping clients define and navigate the regenerative medicine and cell therapy space and has advised industry leaders on business models and innovations in digital health. We congratulate Leah on this well-deserved recognition," said David Barrow, Managing Director and Head of L.E.K.'s Life Sciences and MedTech practice for the Americas.
Ralph joined L.E.K. after receiving her undergraduate degree in molecular biology and biochemistry from Wesleyan University. With the firm's support, she later earned her M.B.A. from Kellogg School of Management and then rejoined L.E.K. On top of her client work, Ralph has demonstrated a commitment to nurturing the next generation of top life sciences talent.
"I'm honored to receive this recognition for consulting leadership. And I'm thankful for the wonderful colleagues and clients who make my work so rewarding," Ralph said.
Ralph will be honored at a gala awards dinner on November 17, 2016 in New York City, and she is being featured in the December 2016 issue of Consulting magazine.
About L.E.K. Consulting
L.E.K. Consulting is a global management consulting firm that uses deep industry expertise and rigorous analysis to help business leaders achieve practical results with real impact. We are uncompromising in our approach to helping clients consistently make better decisions, deliver improved business performance and create greater shareholder returns. The firm advises and supports global companies that are leaders in their industries -- including the largest private and public sector organizations, private equity firms and emerging entrepreneurial businesses. Founded more than 30 years ago, L.E.K. employs more than 1,200 professionals across the Americas, Asia-Pacific, and Europe. For more information, go to www.lek.com.