Marcelo do Ó is a Managing Director and Partner in L.E.K. Consulting's São Paulo office. He has more than 25 years of experience in both the pharmaceutical and life sciences industries and in management consulting. He also has experience in the Healthcare, Retail, Metals & Mining sectors. He specializes in competitive strategy development, growth strategy and M&A.
Marcelo has deep expertise in Brazilian pharmaceutical marketing, having spent eight years with Novo Nordisk where he was General Manager of Brazil and then operations director for Latin America and head of emerging markets strategy for the company. He also served as the Brazil country president for Sandoz where he was responsible for all lines including oncology, biologics, prescription and generics. Marcelo began his consulting career at Accenture and McKinsey & Company in Brazil, and was an associate partner at Monitor Group in São Paulo. During his consulting career, he directed more than 100 strategy and operational improvement projects for biopharma, health providers and other companies. During his tenure, he also conducted strategic and commercial due diligence for multiple private equity clients.
Marcelo earned a B.S. in Materials Science and Metallurgical Engineering from Pontfícia Universidade Católica in Rio de Janeiro, Brazil. He also holds an MBA with distinction from the Kellogg School of Management, Northwestern University.
Education
Undergraduate: Bachelor of Science, Metallurgy and Material Science Engineering, Catholic University of Rio de Janeiro
Graduate: Master of Business Administration (with distinction), J.L. Kellogg School of Management, Northwestern University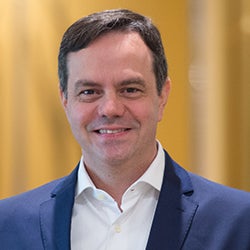 Related Insights
Case Study: How Strategy Can Turn a Business Around
Case Study: How Strategy Can Turn a Business Around
Strategy
Case Study: How Strategy Can Turn a Business Around
Strategy
Case Study: How Strategy Can Turn a Business Around