Subscribe to Insight Exchange on Apple Podcasts, Spotify, Google and Amazon Music and Audible for the latest episodes.
The insurance industry isn't known for its early embrace of technology. As the industry continuously faces enormous challenges, technology is driving change.
In this episode, we'll discuss how a U.S. InsurTech CEO founded her startup business as she takes us through the journey of successfully breaking the mold of a typical insurance model. You will hear from Joyn Insurance CEO and co-founder Seraina Macia. Your host for this episode is L.E.K. Consulting's Justin Balcombe. Justin co-leads L.E.K.'s Insurance practice and has over three decades of experience in the insurance industry.
Read the full transcript below

Host:
Welcome to Insight Exchange presented by L.E.K. Consulting, a global strategy consultancy that helps business leaders seize competitive advantage and amplify growth. Insight Exchange is our forum dedicated to the free, open, and unbiased exchange of the insights and idea that are driving business into the future. We exchange insights with our brightest minds of the day, the most daring innovators and the doers who are right now rebuilding the world around us.

The insurance industry isn't known its early embrace of technology. As the industry continuously faces enormous challenges, technology is driving change. In this episode, we'll discuss how a US InsurTech CEO founded her startup business, as she takes us through the journey of successfully breaking the mold of your typical insurance model. Today, you'll hear from Joyn Insurance's CEO and founder, Seraina Macia. And your host for this episode is L.E.K. Consulting's Justin Balcombe. Justin co-leads L.E.K.'s insurance practice and has over three decades of experience in the insurance industry.

Justin Balcombe:
Good morning, everybody I'm delighted to have on my global podcast, CEO and founder of a brand new InsurTech startup, Seraina Macia is the CEO and founder of this business she's been in the insurance industry for many years, has been inside AIG, Zurich and is a board director financial services businesses on a global basis.

Her understanding of the insurance industry is significant, and today I'm delighted and really super excited and energized to be talking to Seraina about her latest venture. And we are going to hear from her in a moment around her startup, Joyn. But first let me just set the scene in terms of why InsurTech is so important for the insurance industry and the part that L.E.K. plays in that piece of the value chain. So the insurance industry for many, many years has been known for a slow lethargic approach to the entire value chain, whether it's sales and distribution or claims management and underwriting, but it's always had this sort of connotation that processes are slow, cumbersome, and perhaps in some areas ill defined.

And over the most recent years, we've seen the prolification of InsurTech startups and innovation around the digital imperative. And really those two focus points have started to converge where insurance businesses have started to really embrace digital, and innovation has started to be embraced by startups who see insurance as an opportunity to certainly disrupt parts of that value chain. And therefore, bringing together the best of digital and the innovation that InsurTechs see has allowed businesses to really thrive in a very different way than perhaps times of the past, when we saw the emergence of the dot.com industry. Now we really seeing hard, fast genuine businesses actually stay the course like Joyn, Seraina Macia's business today.

On top of that, we started to also see investment from venture capital firms and alternative capital businesses and private equity businesses who are really interested in helping fund and disrupt the journey. So, more equity has moved into the InsurTech space and over the last couple of years, we've really seen huge growth and unicorns appear, those really large numbers that you perhaps have seen in the press and on the media where investments has flowed into startups to help them really scale and disrupt that value chain that I just spoke about.

So, when you bring all of that together, it's hugely exciting times for both the conventional insurance industry and indeed the digital and innovative side of the industry. And actually, the three parts are starting to learn how to collaborate and coexist together and help actually change the way in which insurance is both purchased, utilized, and actually thought about as I referred to earlier. So, the legacy traits of the past are hopefully going to vanish and we're going see a very, very different look and feel and flow of the insurance industry as we move forward.

And for L.E.K., this is exciting because as a boutique strategy firm, we can really help InsurTechs think about where they need to go next and we can help them coexist and work with the incumbents' insurers who are large organizations who actually need to think about how they bring the InsurTech content into their world and equally how InsurTechs can work alongside larger businesses to really scale and deliver that profitable growth that everyone seeks. So, if that sets the scene, without further ado, I'd like to now bring in Seraina Macia and welcome her to the L.E.K. Podcast. Hi Seraina. How are you?

Seraina Macia:
Hey Justin, thank you. I'm great. And thanks for having me.

Justin Balcombe:
No, no, not at all. So, what our listeners would love to hear is really the journey, because you have come from the conventional side of insurance, you've seen the challenges that the industry has had to navigate. You've been in the thick of it with some of the biggest industry businesses globally, and you've also been in different countries as well. So, you understand the pace and ebb and flow of how insurance navigates through the local markets, both domestically and internationally. How does an individual with that experience suddenly wake up one morning and you go, "You know what, I'm going to go and disrupt the market and do it differently."

Seraina Macia:
Yeah, no, look, what I would say, I would call my journey an accidental journey almost. So, as you said, I've worked in many global insurance companies and I've been in very senior roles. But one of the things that always struck me was the lack of adoption of technology in our industry. And there's almost a cultural resistance to it. And we like to do things in a certain way, but we don't want to change. And it had always frustrated me. And so, when I got an opportunity to build a digital business for AIG at the time called Blackboard, I was super excited about it. And really learned how technology and data and that discipline around data can make such a big difference in how we deliver insurance.

But when Blackboard was discontinued with AIG, because the pandemic and all sorts of other reasons, me and my team, we found ourselves obvious to disappointed by our venture not continuing. And we said, "You know what, we know what we're doing..." I got a lot of calls from brokers saying, "Hey Seraina, we really saw the transformative business that you're building. Why would you not go out and do it on your own?" And so a team of 14 people, so myself and 13 other team members, we go together and we formed Joyn.

Our mission is really, we want to turn insurance into a joyful experience. It's a play on words. Our name is Joyn. It's an insurance you want to join forces with, but also we want to turn insurance into joyful experience. And so it was kind of accidental that we ended up being entrepreneurs. And now I have to tell you, I just love it. I love building my own business. It is such a difference compared to working for large corporations.

Justin Balcombe:
So Seraina, could you tell us about Joyn, J-O-Y-N.

Seraina Macia:
Yeah. Thanks Justin. Yeah, so the name it is spelled J-O-Y-N and it really plays to two words, join, so an insurance that you want to join forces with, but also the word joy, meaning that we want to transform insurance into a joyful experience. And you'll also see in our logo, our logo is actually big heart, which brings some warmth. There's some female touch in that as well. But it's two colors, which also talks about joining forces.

Justin Balcombe:
That's fantastic to hear, not just that it's great that you've started this journey, but you are a female leader in the insurance industry and we don't have many female leaders running insurance businesses. It's always been a male dominated industry and that's changing, but it's fantastic that you've taken that learnings and then you've entered the space and are transforming that space, transforming from a technology point of view.

But from a leadership point of view we could probably count on one hand the female leaders that we've got running insurance businesses globally. It's very few. And you are now running an insurance business with global aspirations. And one of the transformative elements is empowerment and social good. And I think that's one of the top topics today across the globe, has consistency. And therefore I think a lot of the folk on the podcast would be really interested to know how do you feel in that position and what sort of messages would put out there for folk that would look at a business and go, "Wow, it's a male dominated industry. But Seraina's actually broken the mold here. And as part of that transformation, she's really leading the charge. Does that make sense?

Seraina Macia:
Yeah. No, totally. Totally. No, thank you. That's a very thoughtful question and it is very interesting, we are a very male dominated industry, particularly as you get more senior in the roles and quite frankly, I call my journey accidental again. I think that's the common [inaudible 00:10:33] in my career because when I enter the insurance industry, I never really had the aspiration to be a CEO, because there was no other role models that I could look up to and say, "Hey, I want to be like her one day." So I just didn't think it was possible. And throughout my career though, I was fortunate enough that I was given opportunities in my life to take on leadership roles. I also had the courage to take on those opportunities. So I think that's really something very important for young females that go into the industry, take opportunities that come your way, have the courage to do it.

And again, it's a sort of a common theme, getting an opportunity, but then have the courage to do it, which is the same that happened to me with Joyn in a lot of ways, I had that opportunity to build my own company, but I could have gone the traditional route and taken on a CEO role again. But I had the courage to do it, which by the way, it's not for the faint of hearts, building your own company.

And so what I will say is, the way I look at it is I was fortunate enough, but I hope that I can be an inspiration for other young females that are coming into the industry and say, "Hey, you know what? It is possible to move your way up through the industry." We are very diverse in our work force, even for a young company and we're 27 employees, but we have a very diverse background of our employees, big gender, but being all sorts of interest, we have different nationalities for us. And so I really believe in that diversity of thought. So it's not just a gender, but it's just a diversity of thought.

And we live that at Joyn every day and being a female and a mother maybe are more sensitive to some of these things as well, and I can only encourage young females to just jump into the industry, take the opportunity, and this industry has just so much to offer in terms career, from any sort of background, and we are sort of the best [inaudible 00:12:59] in a lot of ways too, because we look boring from the outside, but I think we're pretty exciting industry.

And I always joke with people and I was just interviewing someone yesterday and he said, "If I were to join Joyn this would mean that I would stay in the insurance industry." And I said to the person, "Well, don't the secret, once you're in that industry, you're stuck. You can't get out, because it kind of gets under your skin." So that's how I feel about our industry. And I feel there's tremendous opportunity and there's tremendous opportunity for females just take them when they come your way and also seek them out.

Justin Balcombe:
Very good. Well, yeah, no, I agree with everything you've said there, Seraina, this is what, 36 years now I've been in this industry. It's not just under my skin, it's in my blood now as well. So it's a great industry and there you are innovating and transforming and demonstrating to the market and external to the market that females have an opportunity to really lead from the front and be impactful and make change. I just think that's absolutely fantastic and is certainly one of the top points of conversation, when I speak globally to CEOs of insurance businesses, is really being able to embrace talent and the opportunity that talent provides for transforming the industry, hence one of my first question.

So let's now talk about that transformation. You've written a number of articles that have been published around your platform and how you've used technology to really transform certain parts of the insurance sector and the certain profit pools that you are focused on. I think our listeners would like to understand particularly those that perhaps don't know, insurance to the same degree that we do. Why have you selected the particular part of the insurance value chain that you have and how has that translated to activity in the US market? And then my third part of that is how are you able to compete if not leads from the sort of conventional carriers that exist in your domestic market?

Seraina Macia:
Yeah. So when we looked at the insurance market in the US, it is a huge marketplace obviously, everybody needs insurance, nothing works without insurance, but there's so many pain points in a whole purchasing process. And those pain points are, the customer is impacted, the brokers are impacted as well as the underwriters delivering the product are impacted. But these pain points can really be solved through technology, data as well as the right mindset or the right company culture. And so what we've done at Joyn, we've embarked on really saying, "Hey, how do we leverage? How do we build the technology? How do we create a data environment and create the right culture to address all these industry pain points?"

What you see out there is a lot of InsurTechs are focused on a small customer segment or a particular step in the value chain. A lot of the InsurTechs are focused on per personal lines or the small end of commercial lines. We're really coming in right above that. So we're sort of you in that sense. So we're focused on the low end of small commercial business and middle market business. And that marketplace, we've identified as being incredibly underserved and not a lot of InsurTechs are really focused on it.

And so what we've done is we've re-engineered, I would say the whole insurance process and really enabled it with technology, so that you have a more digital experience, which is what you would expect today. But the industry just hasn't done that yet. To come to come to your question around competition, these marketplace is so big. It's so highly fragmented. We're not really bumping up against the big industry names because the marketplace is so highly fragmented.

Justin Balcombe:
In one article that I read, you talk about, you've a state of the art technology platform to solve the pain points. Could you describe several of those pain points and also why you believe you have the state of the art platform?

Seraina Macia:
Yeah. Yeah. So one, we have our mindset. I said to the team, "Look, if we have an opportunity to build a company from scratch, which is just, we feel so lucky to be able to do that. We can't apply the same mindset as we've had in large companies, we really need to apply sort of a 10x mindset saying, "How does our technology and our data environment allow us to do things 10 times better than the rest of the industry." So the best way to look at this is when you look at an underwriter in our target space, they write about 2 million of premium per anum and we said, "How do we empower them to write 20 million of premium a year?" So something unheard of.

And when I first kind of floated that idea with the team, they went like, "Wow, that's crazy." But you have to really push your thinking to that sort of level in order to be truly transformative. So that's a really important notion. We apply that across the value chain.

So how does this translate into day-to-day? I'll give you some example. So this business is a 100% intermediated, so the brokers will send you submission. And when the broker sends a submission, 50% of the time, they don't even hear back from the carrier. So it just kind of gets lost in the submission black hole. At Joyn, we have built automated intake capabilities. So what happens is, the submission comes in the door, we acknowledges all submissions within 24 hours. And we automatically ingest all the data that's in that submission, and we actually bounce at the submission data off third party data sources. So we will validate the submission information, but we will also augment the submission information with a lot more details than is typically included.

So that means that our underwriters have more risk insight. So they get a lot more data that they can analyze. But also we actually go back and share the third party data that we pulled with the broker. So then they can go back to the insured and say, "Hey, this is how Joyn looks at your risks and they can see it at the very granular level.

So that's just one example. Another example is it just shows you our industry, how they operate, but when you bind the policy, it takes typically 30 days for the paperwork, for the policy to go to the broker. And then the broker has to check in and they actually outsource the checking because 50% of the policies that are issued have some clerical errors and have to be returned. And so it's a cumbersome process and the client obviously doesn't have contract certainty until they have the policy in their hands. So at Joyn, we've automated policy issuance. So when you bind, you get the policy issued right away. So you have it in your hands and it's error free because it's system generated. So those are just a couple of examples that I can give you, that really how our technology helps transform the experience.

Justin Balcombe:
So you're saving brokers time, excellent. You're also helping them scale a larger premium opportunity and also give them a great customer experience.

Seraina Macia:
Yeah, absolutely. And it does reduce their E&O as well, which is something they're always concerned about. So yeah, the feedback from the broker community, it's just been nothing but the positive, because they're looking for this digital experience, and they're looking to increase their ROI and so Joyn is really able to do that for them.

Justin Balcombe:
So how do you scale Seraina? Because you've really hit the holy grail here and you are providing all of those efficiencies for the broker community, you can't afford to stand still and you've really got the world as your oyster. So what does scale look like for Joyn?

Seraina Macia:
Yeah, so the technology is really how we are able to scale, right? So there's such operating leverage built into that technology, because of that 10x mindset, that we don't need to throw resources at the problem, like what the typical insurance industry does. So if you want to grow, you need to add people. We just need to continue to increase the level of automation. And so the way to scale is by just signing up more distribution partners right. And then we let that submissions, it's being run through the machines, so to speak. Right?

And we're obviously adding products, but in terms of distribution we deal with the large global brokers with the regionals, with the national brokers, but we also have alternative distribution where you API directly into these distribution sources. And so it's basically, our machine will then automatically take care of the volume that comes our way. It's not like this day one, but as we continue to evolve and build out the technology, the level of automation increases and the amount of business we can handle continues to increase significantly. It's a really great operating leverage. It's just such a different mindset than from a traditional insurance company.

Justin Balcombe:
Right. Yeah. And how do you then scale Joyn into other countries and regions, because clearly the technology is a domestic platform, but the broker issues that you are fixing are global issues. So really the opportunity has to be for some form of global dominance there Seraina, the opportunity to... If I was a broker listening to this today, I'd say, "Wow, you can give me 10x on yesterday's premium and you're going to make things faster, and my experience better, where do I sign up?"

Seraina Macia:
Yeah. So I would say, we got to walk before we run. And so we are focused on the US, but you're absolutely right, what we're solving can be applied basically in any country. We haven't got any plans yet to go international. That doesn't mean we don't have the ambition one day to do that. But right now we're really focused on the US, adding states by the end a second quarter, we should be operating on a national scale. We're adding products. We are in three products today, but we're going to add cyber, employment practices, liability and equipment breakdown. So that's kind of how we're thinking about this scale in the first place and just focused on the US marketplace. And then we'll see where it takes us.

Justin Balcombe:
Yeah, that's fair. If you were to look back and think, okay, as you said, "I've had a super experience and now we're heading into US wide coverage. I want to take some of the learnings from the past." What would you not do again?

Seraina Macia:
My direct learning is really related to when we did our first InsurTech. I think we added people too quickly. We had sort of a little bit too much of a big company mindset. And now we're this scrappy startup that is cash strap. And so you're really pushing you're thinking a lot harder than when you are funded by a large capital pool. So be very thoughtful around when you add resources, I think that's something, and pay a lot of attention to your culture as you grow, you don't want to grow too fast. You want to be very thoughtful around it, but that would be my biggest lesson learned. What I will tell you is because we are a small... Actually one of our data scientists. He said that to me, he said to me, "Seraina, it's amazing, with fewer people, how much more you can get done."

Which is just not how large corporations think about it, and that's very true. And I can only give that as advice to anybody. Just keep pushing your thinking, your 10x thinking, not just in terms of the underwriter productivity, but anything you do. It's amazing what you can get done. And it's also amazing what you can get done when people work very well together and to share the same passion. So that's one of the things that reunites my team is we share that passion for wanting to transform the industry and leave it in a better place. And so those are great recipes for success.

Justin Balcombe:
Let's talk a little bit about then the investments, how you actually work with the investment community. Because our startups know, and to your point, it's a bit of a rollercoaster experience, stepping out there from the safety net of a large commercial enterprise, to suddenly you are on your own, and you don't know whether that parachute cord is going to work or not. And you may not even have a backup parachute, but you are out there, you're bringing folk in, you're building this platform, you are changing the way in which brokers are doing business. You are really innovating, but it costs to do that. And the cost of capital whilst may well be lower than we've seen for many years.

You've still got some task masters that are external to Joyn who say, "Hey, Seraina, when's the return coming?" Or, "How more would you like?" Or, "What does good look like for us?" So I know that when we talk to private equity, when L.E.K. had that conversation with our private equity clients and venture capital clients, the pressure on some parts of that con conversation and that investment thesis for a return, is quite profound. And I don't think it's getting any less, it's certainly getting more demanding for businesses today. So have you been able to balance your style of operating your expectation of where Joyn's going and that of the supporters that you have of around you from a financial point of view?

Seraina Macia:
Yeah. Yeah. No great question. So one, it is a rollercoaster ride. I have to agree with you and you definitely have a lot more sleepless nights, and that's been my experience. And just to go back, when we founded Joyn and the 14 people that we got together, we didn't have the investors lined up, nor did we have the balance sheet lined up, because we're an MGA. So we needed a balance sheet and reinsurance. But I was so passionate about wanting to do this. So I put in my own money and I have to tell you, the first time that we paid the salaries of the 14 people, that was my money. And it felt very different than when you're, when you're in a large organization, you just get your salary every month.

And I spoke to a lot of investors. For us, it was very, very important that we get the right investors that share the same passion, that are in it for the long term. And we had a lot of interest in us. We ended up actually making an interesting decision and went with SiriusPoint as our strategic investor, because they could provide both the balance sheet as well as the capital to get us started. And so they've been our only investor so far, and they have been absolutely great partners. They got us launched, they helped us secure the reinsurance that provides us with longevity. They provide intellectual input in our build. And so they've been great partners.

Now having said that, we are about to embark on our series B, fundraising. And so I'm starting to talk to a lot of investors about what we've accomplished, but I feel very good about our prospects one, but also you're right, once you get all these investors and you get obviously a lot of pressure of delivery, but I feel very good about our ability to deliver, because my team has just such a track record of execution and delivering. And we are so far ahead in terms of our tech build, relative to the life cycle of our company. So we're in a really good place. I feel very good about not only for us to continue to deliver on what we set out to do, but also our ability to track the investors.

Justin Balcombe:
That's fantastic. Well, of course, L.E.K. would love to help you on that journey of talking to investors because that's what we do day in, day out, as well as talking to startups and larger organizations as well. But I think that's really very cool Seraina. And it's great that you are so far advanced on your journey. And I think it's admirable and certainly really insightful when you talk about funding the journey yourself at the outset, many, many, many startups go through that pain process, but you're right. You have to feel the burn yourself to really, truly appreciate the joy. And not wanting to plug Joyn, but there you go, joy.

Seraina Macia:
There you go.

Justin Balcombe:
The joy of thinking, "I'm actually doing this myself for myself and everyone around me." It's pretty cool.

Seraina Macia:
Yeah. Yeah, no, it's definitely a very rewarding experience and I would encourage more people to do it. As I said before, I mentioned it's not for the faint of heart, it requires a different mindset, but it's also a super rewarding experience.

Justin Balcombe:
That's great. Well, look, we are going to wrap this up now. So if there was a couple of thoughts from you Seraina, on how you see the next 12 to 24 months for Joyn, what your immediate and sort of near term priorities are, and then perhaps some closing thoughts from you around my last point, which is sustainability. And the reason I ask you about sustainability is because again, from a technology point of view, everybody talks about technology moving to a sort of green platform and all that you do being in a sort of sustainable process and also making commitments for climate change as well. Is this something that from an investor point of view, and a CEO point of view, you also embed into the way in which you work. People find that a very important and impactful point, especially the younger folk who want to join businesses that are startups and value to you, what's going on externally.

Seraina Macia:
Yeah. So in terms of your first question, we will continue to just execute on our roadmap, adding product states, technology capabilities, onboarding more broker, as well as brokers and agents. And we're adding alternative distribution to just continue to deliver on the joint promise and our value proposition. So that's for the journey for the next 12 months.

In terms of your ESG question, something that's very near and dear to my heart, being a startup, you feel like you're actually so much more ESG friendly already. We don't have office location, we don't have paper. It's completely virtual environment, it has not come up with any of the investor conversations, but something that we totally want to embrace and will embrace. And it's almost feels like second nature to us as an organization, just the way we were formed and how we think about it.

And it's just so different again, to if you're a large corporation with a big footprint, it just, it's so much harder to commit to ESG goals and so on, versus for us, we are a 100% virtual, as I said, it's just a different type of approach. And we can build in that thinking from the very beginning as we build out our organization. So I feel like we're in a good place.

And maybe if I can leave you with one last thought as a startup, I will tell you, another comparison to my previous lives in big corporation, every day really matters. It's just so much more, every day is so important. Every day really matters. And every single team member really, really matters. So you have to choose your people wisely. And that's kind of one of the key things I learned.

Justin Balcombe:
Fantastic. Well, you are absolutely glowing with everything to do with Joyn. And it's been a real pleasure to have this conversation with you Seraina, I thoroughly enjoyed it. And I hope that everybody that will listen to the podcast will also take inspiration from you as an impactful and insightful, a thoughtful, charismatic as well, a global female leader that is really transforming the insurance industry and looking to make a real difference. Thank you very much Seraina.

Seraina Macia:
Thanks, Justin, it's been great to see you again.

Justin Balcombe:
Likewise.

Seraina Macia:
All right.

Host:
Thank you, our listeners, for joining us today at the Insight Exchange, presented by L.E.K. Consulting. Links to resources mentioned in this podcast can be found in the show notes. Please subscribe or follow for future episodes, wherever you listen to your or podcasts. Also, we encourage you to submit your suggestions for future insights online at lek.com.
Subscribe to our podcast Insight Exchange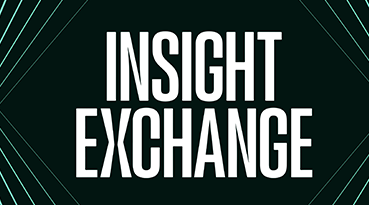 If you're a growth investor, an advanced student, an employee, a researcher, an executive, an entrepreneur, an inventor or a board member, we invite you to join us for Insight Exchange™.
Related Insights